Аалам айланган Кыргыз желеги
The round-the-world flight of the Kyrgyz flag
Photo of the plane on which S. Saliev intends to travel around the world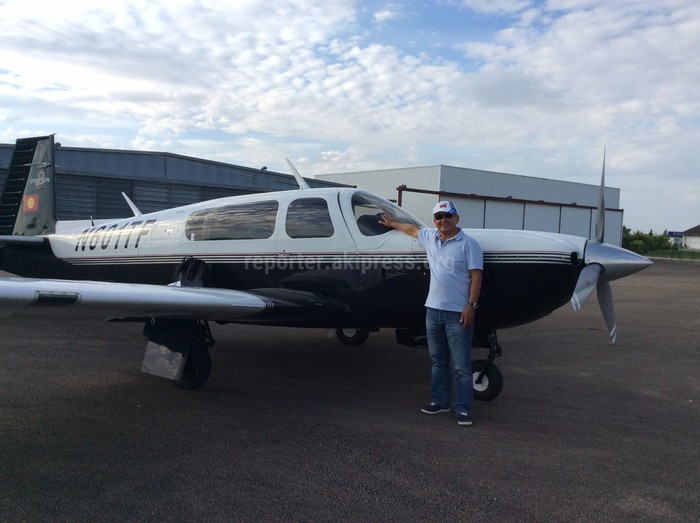 "Reporter" - the Manager of the Kyrgyzstani Soyuzbek Saliev, intending to travel the globe, reports:
"Route of the distillation of the aircraft for round-the-world trip passed through Europe to Asia, the crew included participants of round-the-world flight Soyuzbek Saliev and Jonas Juknius.
The starting point was the city of Troyes in France, where the aircraft was in a specialized repair plant of Mooney airlines. After that, through the Alps, through Switzerland, Austria and Hungary, the plane landed in Belgrade, Serbia. After a short rest and equipment check the flight passed through Bulgaria to Turkey, the city of Ankara. After refueling the aircraft and preparing the aircraft for the next flight, the crew went to its next point — the Kazakh city of Aktau, the path to which was long and ran through Georgia, Azerbaijan and the Caspian sea. Safely landing in Aktau, then the route planned a flight through the territory of Kazakhstan to our capital — the city of Bishkek.
On July 15, the crew landed at Manas international airport.
Currently, the crew conducts training flights and is bringing the aircraft to the stage of readiness for round-the-world flight.
The flight from Bishkek is scheduled for early August, it is planned to overcome a total of 47,600 km by air over the territories of 26 countries."
The route of flight looks like this:
Kyrgyzstan—Turkmenistan—UAE—Sudan—Nigeria— Côte d'Ivoire—Brasil—Chile—Tahiti—Samoa—Nauru—Japan— Philippines—Vietnam—Bangladesh—Pakistan—UAE—Turkmenistan—Kyrgyzstan.